Store Hours




Monday - Saturday




10 - 5




972-542-8839

We Sell


and









FEATURED NEW FABRICS


Girl Scouts
By Riley Blake



Embrace
By Shannon

Cuddle and Dimples
By Shannon

FEATURED BLOCKS
OF THE MONTH


Vases of Flowers
12 Month BOM
$24.99/ month
Enroll Today
Kit Price: $274.99
Get Yours Here!


Sunflower Garden
14 Month BOM
$29.99
Enroll Today


Botanical Sketchbook
7 Month BOM
$24.99/month
Enroll NOW!
Kit Price: $149.99
Find Yours HERE!


KITS

Colorful Sunflower Garden Kit
82" x 87"
$259.99
Buy One Today

Press On
18" x 6"
$84.99
Get it now!



Garden Whimsy
56" x 72"
$239.99
Get Yours HERE!



Everyday Crazy Table Mat
22" x 15"
$99.99
Get Yours NOW!



We proudly carry beautiful sterling silver thimbles and chatelaines designed by
TJ Lane.
Come by Happiness and try on one of these hand crafted thimbles.






On your LIKE button make sure you turn your notifications to "All On" to receive all our Posts!



Richard Larson
Free Standing Lace
Gingerbread Class

What an amazing & fun teacher Richard is!
If you didn't get a chance to join in on the fun at our FSL Pumpkin Class, you won't want to miss the Gingerbread House.
Don't wait, space is limited and going FAST!
Saturday, Oct.21
10:30 - 4:30
$75
Sign-up NOW
HELPING OUR COMMUNITY
McKinney Make a Difference Day 2017
Saturday, Oct. 28
This organization is looking for individuals with sewing skills to make weighted blankets for foster and adoptive children.
What a great way to use our skill and love of sewing!
Friday & Saturday
Oct. 13 & 14
9:30 - 4:30
Holiday Inn McKinney
$249
Enroll TODAY!


NEW TO OUR
SHELVES



Quiltmania




Special Issue 20 Years




Simply Vintage




Autumn 2017




American Patchwork & Quilting




December 2017




Simply Moderne




Issue 10
SEWING MACHINES
PFAFF creative icon

It's almost HERE!
the creative icon!
There is still time to get on on the pre-sale.
Come in and see us and place your deposit!

National Sewing Month with Bernina
Still a few Days LEFT!
Celebrate National Sewing Month In Style!
CLUBS & CLASSES

Utility Quilting with
Merri


Learn to hand quilt using the big stitch method.
Saturday, Sept. 30 10 - 2
$40
Enroll Today

Star Storm Quilt


In this class, Janet will teach you how to construct this amazing beauty by Victoria Finlay Wolfe.
Purchase Star Storm Pattern Here
Saturday, Sept. 30
10:00 - 5:00
$50
Don't wait! Enroll Today!


Vases of Flowers BOM Workshop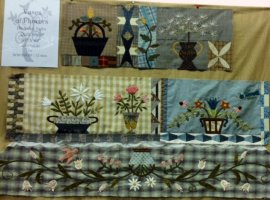 Come work with Janet on your Vases with Flowers BOM by Yoko Saito. She will teach embroidery and applique skills that will help you complete this beautiful quilt.
Class will meet once per month
Saturday, Oct. 7 10-1
Saturday, Nov. 4 10-1
Saturday, Dec. 2 10-1
$45/quarter
Enroll TODAY!
Don't have this gorgeous BOM?
Sign-up for the Vases of Flowers BOM HERE


Cuppa Sewalong


Join Jill as she walks you through Sue Spargo's
block of the month, Cuppa.
Get her advice on stitch, fiber and embellishment choice.
Wednesday, Oct. 4 10 - Noon
$25
Enroll Today

Sew Serendipity Skirt & Heidi Foldover Clutch

| | |
| --- | --- |
| | |
Sew Serendipity Skirt
Wednesday, Oct. 4 & Tuesday, Oct. 17 10 - Noon
$40
Enroll Here

Heidi Foldover Clutch
Wednesday, Oct. 4 1:30 - 4:30
$30
Enroll Here



Seamwork Skirt
Monday, Oct. 9 10 - 11:00 & Monday, Oct. 23 10 - Noon
$30
Enroll Here


Blended Quilts


Have you always had the desire to make a blended wall quilt but not sure where to begin? Have you bought some fabric for a blended quilt but just need some guidance?
This class is for you!
Janet will help you get started on your own Blended Quilt.
Friday, Oct. 6, 10 - 5
Sign up Now!


It's Not a Square Demo


Join Merri to get tips and tricks to putting together the
It's not a Square Block of the Month.
Friday, Oct. 6
10:30-11:30
$10
Sign-up Today


NEW Bright Bouquet Sewing Roll Class


Jill has been working on this beautiful sewing roll by Sue Spargo and is excited to share it with you in her newest class offering.
Friday, Oct. 20 and Friday, Nov. 3
10 - 2
$80
You will need to purchase the magazine for this class so make sure you get yours soon. Supplies are limited!
Enroll Today



CHECK OUT THE FULL MONTH'S CALENDAR