Scissor Sharpening




Come by & have your scissors sharpened by Jim owner of




CF Sharpening Services




Saturday, Sept. 23




10 - 12:30






Store Hours




Monday - Saturday




10 - 5




972-542-8839

We Sell


and









FEATURED NEW FABRICS


Suede
By Checker



Jungle Jam
By Timeless Treasures

Diving Board
By Andover

FEATURED BLOCKS
OF THE MONTH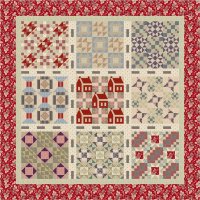 Orphan Train of Memories
12 Month BOM
$24.99/ month
Enroll Today
Kit Price: $274.99
Get Yours Here!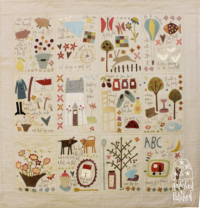 Dancing Chickens
and Flying Pigs
12 Month BOM
$29.99
Enroll Today



Joyful Journey
10 Month BOM
$14.99/month
Enroll NOW!
Kit Price: $159.99
Find Yours HERE!


KITS

Elsie Avenue
36" x 44"
$74.99
Buy One Today

One Fabric Kaleidoscope Kit
62" x 62"
$98.99
Get it now!



Robot Quilt Kit
45" x 54"
$99.99
Get Yours HERE!



Spellbound Quilt Kit
59" x 76"
$114.99
Get Yours NOW!



We proudly carry beautiful sterling silver thimbles and chatelaines designed by
TJ Lane.
Come by Happiness and try on one of these hand crafted thimbles.






On your LIKE button make sure you turn your notifications to "All On" to receive all our Posts!



NEW Clothing Classes

These fun clothing classes will sure to get you started on your new fall wardrobe.
We have many to choose from so check them out and get started sewing!
Everyday Tunic
Monday, Sept. 25 10 - Noon & Monday, Oct. 2 10 - 1:00
$50
Enroll Here

Sew Serendipity Skirt
Wednesday, Oct. 4 & Tuesday, Oct. 17 10 - Noon
$40
Enroll Here
Heidi Foldover Clutch
Wednesday, Oct. 4 1:30 - 4:30
$30
Enroll Here

Seamwork Skirt
Monday, Oct. 9 10 - 11:00 & Monday, Oct. 23 10 - Noon
$30
Enroll Here
NEW Bright Bouquet Sewing Roll Class
Jill has been working on this beautiful sewing roll by Sue Spargo and is excited to share it with you in her newest class offering.
Friday, Oct. 20 and Friday, Nov. 3
10 - 2
$80
You will need to purchase the magazine for this class so make sure you get yours soon. Supplies are limited!


Inspirations Magazine #94
Enroll Today
Richard Larson's Freestanding Lace Class
What an amazing & fun teacher Richard is! If you didn't get a chance to join in on the fun at our FSL Pumpkin Class you won't want to miss the Gingerbread House.
Don't wait, space is limited and going FAST!
Saturday, Oct.21
10:30 - 4:30
$75
Sign-up NOW
SEWING MACHINES
We are getting ready for the


NEW Premier+2 software!


Come see GREAT deals on remaining stock of

Premier+
| | |
| --- | --- |
| Premier+ Extra | Premier+Embroidery |


PFAFF creative icon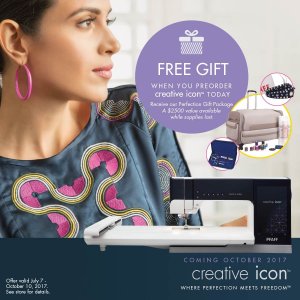 Don't wait to reserve your new
creative icon
$750/deposit
Deposit will reserve your PFAFF creative icon sewing and embroidery machine, and gift package (valued at $2500) while supplies last.
Offer ends Oct. 1
Bernina National Sewing Month
Celebrate National Sewing Month In Style!
CLUBS & CLASSES

TOMORROW!
Introduction to Machine Applique with Penny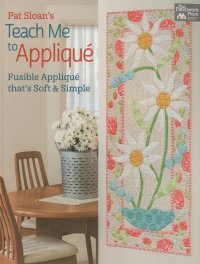 Penny LOVES to machine applique! You will too after taking her class and learning her tips and tricks.
Thursday, Sept. 21 10 - 4
$40
Sign-up Now

Hazel Nut


Isn't she adorable!
Janet will show you tricks and tips that will help you to create your very own Hazel.
Thursday, Sept. 28
10 - 4
$50
Enroll Today!


Sue Spargo Wool Addicts


Calling all wool addicts!
Get together and share the love of wool applique and embellishment.
Saturday, Sept. 23 2 - 5
$15
Enroll NOW


Utility Quilting with
Merri


Learn to hand quilt using the big stitch method.
Saturday, Sept. 30 10 - 2
$40
Enroll Today

Star Storm Quilt


In this class Janet will teach you how to construct this amazing beauty by Victoria Finely Wolfe.
Purchase Star Storm Pattern Here
Saturday, Sept. 30
10:00 - 5:00
$50
Don't wait! Enroll Today!


CHECK OUT THE FULL MONTH'S CALENDAR