Store Hours




Monday - Saturday




10 - 5




972-542-8839

We Sell


and









FEATURED NEW FABRICS


Big Sky
By Moda



Salem Quilt Show
By Maywood Studios

Daisy Chain
By Windham

FEATURED BLOCKS
OF THE MONTH


Sunflower Gatherings
14 Month BOM
$29.99/ 1st month
$24.99/Months 2-14
Enroll Today
Kit Price: $324.99
Get Yours Here!


Botanical Sketchbook
7 Month BOM
$24.99
Enroll Today
Kit Price: $149.99
Get One Here!

Cuppa
10 Month BOM
$29.00/month
Enroll NOW!
Kit Price: $269.99
Find Yours HERE!


KITS

Bee Happy Sew Along Kit
72" x 80"
$189.99
Buy One Today

Big League Baseball Quilt Kit
48" x 60"
$69.99
Get it now!



In My Garden Quilt Kit
40" x 41"
$74.99
Get Yours HERE!



Lost Mittens
60" x 72"
$164.99
Get Yours NOW!



We proudly carry beautiful sterling silver thimbles and chatelaines designed by
TJ Lane.
Come by Happiness and try on one of these hand crafted thimbles.






On your LIKE button make sure you turn your notifications to "All On" to receive all our Posts!



TOO Cute To Spook!


Early Bird Pricing Ends 9/15



Early Bird Enrollment Special
$199
ends Friday, Sept. 15
After Enrollment will be $249
Frankly my dear, you can't miss this fa-boo-lous event!
Enroll Today!
SEWING MACHINES
PFAFF creative icon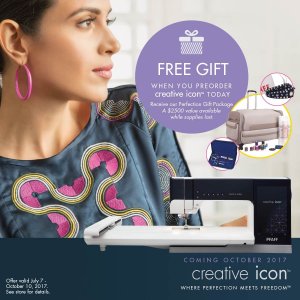 Don't wait to reserve your new
creative icon
$750/deposit
Deposit will reserve your PFAFF creative icon sewing and embroidery machine, and gift package (valued at $2500) while supplies last.
Offer ends Oct. 1
Bernina National Sewing Month
Celebrate National Sewing Month In Style!
CLUBS & CLASSES

Utility Quilting with
Merri


Learn to hand quilt using the big stitch method.
TOMORROW!
Friday, Sept. 15 10 - 2
$40
Enroll Today

Yazzii Embellishment Bag Class


In this fun class Jill will help you create a wonderful embellished Yazzii bag of your very own.
Class meets twice
Saturday, Sept. 16 10 - 1
and
Saturday, Oct. 7 10 - 1
$60
Don't miss out!
Enroll TODAY

Hand Piecing with Jill


Slow stitching is all the rage! Learn this fun new way to hand piece your quilts with Jill
Saturday, Sept. 16 2 - 5
$30
Enroll Now

Beginning Punch Needle


Have fun learning punch needle with Wendy.
Monday, Sept. 18
10:30 - 1:30
$30
Enroll Today


NEW Beginning Machine Piecing Class


Join Kim as she shares her love for quilting. You will learn beginning piecing skills that will help you to make the 9-patch quilt featured in the book.
Tuesday, Sept. 19 10 - 1
Tuesday, Sept. 26 10-1
Tuesday, Oct. 3 10 - 1
Tuesday, Oct. 10 10 - 1
$120
Enroll Today!

Introduction to Machine Applique with Penny


Penny LOVES to machine applique! You will too after taking her class and learning her tips and tricks.
Thursday, Sept. 21 10 - 4
$40
Sign-up Now

Sue Spargo Wool Addicts


Calling all wool addicts!
Get together and share the love of wool applique and embellishment.
Saturday, Sept. 23 2 - 5
$15
Enroll NOW

The Everyday Tunic Class
with Markita


In this 2-part class you will learn to determine fit, adjustment, fabric selection, & construction of your tunic.
Monday, Sept. 25 10 - Noon
and
Monday, Oct. 2 10 - 1
$50
Sign-up Today

CHECK OUT THE FULL MONTH'S CALENDAR