We Sell







We are excited to announce
Anne Bartholet
will now be servicing our
machines

.




WELCOME ANNE!




Store Hours


Monday - Saturday




10 - 5




972-542-8839




FEATURED BLOCKS
OF THE MONTH


Botanical Sketchbook
7 Month
$24.99
Enroll Today



Joyful Journey
12 Month BOM
$14.99 Month
Enroll NOW!
Kit Price: $159.99
Find Yours HERE!



Vases of Flowers
12 Month
$24.99
Enroll Today!
Book Not Included
Get your book HERE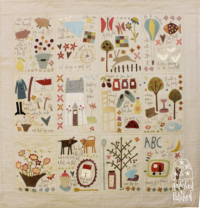 Dancing Chickens and Flying Pigs
12 Months
$29.99
Sign-up Now!


KITS


Bee Happy Sew Along Kit
$189.99
Sign-up Today
Get Bee Happy Templates HERE



Botanical Sketchbook Quilt Kit
32" x 44"
$149.99
Get Yours HERE!




Traveling Blooms Quilt Kit
72"x 90"
$189.99
Get Your Kit HERE




Simply Red Quilt Kit
54" x 65"
$89.99
Get Yours TODAY





We proudly carry beautiful sterling silver thimbles and chatelaines designed by
TJ Lane.
Come by Happiness and try on one of these hand crafted thimbles.






On your LIKE button make sure you turn your notifications to "All On" to receive all our Posts!



Creative Stitching Workshop

In this workshop, you will learn many embroidery stitches as well as techniques for texturing your wool projects. You can choose to use your own wool project or use the Vines and Circle Project Jill will be working on.
Four Session Class
Saturday
Aug. 26
Sept. 23
Oct. 28
Nov. 11
10:00 a.m. - 1:00 p.m.
$120
SO FUN!
ENROLL NOW!!!

Wool Addicts Club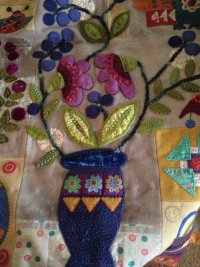 Bring your wool project, Sue Spargo or not, and come stitch with Jill and friends. Jill will be available to help with any embellishment or wool applique questions you may have. Sit & Sew Setting
Saturday, Aug. 26
2:00 - 5:00
$15
Enroll & Come Stitch with Jill
ICON PRE-SALE GOING ON
NOW!
It only takes $750 to reserve your NEW
PFAFF creative icon.
With your new sewing and embroidery machine you will receive a gift package, a $2500 value, while quantities last!
Offer ends Oct.1
Click HERE to see more about the ICON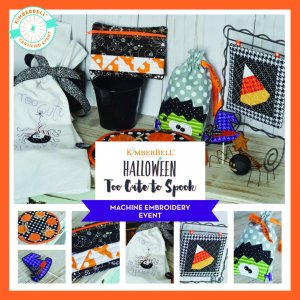 Too Cute To Spook!
A Kimberbell
Machine Embroidery Event
Friday & Saturday
October 13-14
Early Bird Registration
$199
Enroll TODAY
CLUBS & CLASSES

Punch Needle


Wendy will teach you how to use the punch needle tool and create wonderful works of art.
Monday, Aug. 28
10:30 a.m. - 1:30 p.m.
$30
Sign-up Here


Everyday Crazy Table Mat

Join Laura Kay for this fun wool applique class. This adorable wool project is the perfect piece for a beginner in wool applique.
Wednesday, Aug. 30
10-1
$30
Sign-up Today


Evening Sit & Sew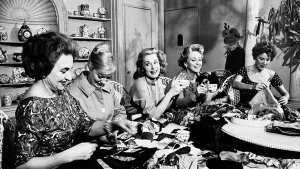 Handwork or Machines Welcome!
Sign-up with friends or come and make new friends.
Thursday, Aug. 31
5-10
$10
Enroll Today


It's Not a Square Demo


Join Merri to get tips and tricks to putting together the It's not a Square Block of the Month.
Friday, Sept. 1
10:30-11:30
$10
Sign-up Today

Civil War Legacy Club with
Timi Ann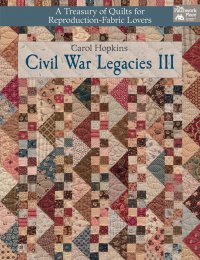 Join Timi Ann as she guides your through these miniature quilts from Carol Hopkins. Lots of tips of tricks to accomplish these wonderful treasures!
Saturday's
Sept. 9
Oct. 14
10-Noon
Nov. 11
2-4
$45
Enroll Today!


Cuppa Sew Along


Join Jill in this fun Sue Spargo Sew Along. She will give advice on stitch selection, fiber choice and fabric selection.
Group will meet monthly
Wednesday, Sept. 6
10 - noon
$25/month
Join The Sew Along


2017 Row by Row: On the Go Continues!



Come by our shop to get yours.
Only while supplies last!
Kits Available!


CHECK OUT THE FULL MONTH'S
CALENDAR
HERE