We Are a



Dealer and

Sewing




Machine Service & Repair Center


WE SERVICE ALL
SEWING MACHINE BRANDS

Store Hours


Monday - Saturday




10 - 5




972-542-8839





NEW FABRIC

Marquesa
Westminster Fabrics
Gridiron Football
Quilting Treasures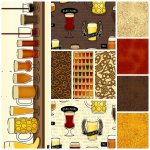 When in Doubt Drink a Stout
Quilting Treasures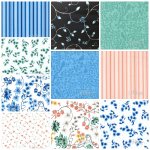 Sweet Tea

Hoffman Fabrics

FEATURED BLOCKS
OF THE MONTH

NEW BOM!


It's Not A Square
Book Sold Separately
12 Month BOM
$75 1st month
$6 months 2-11
Enroll NOW!

Full Kit Available
$135.99


The 4"x5" Quilt Block
Anthology Book
By Carol Hopkins
$29.99
Get Your Copy




Pond House
34.99/Month
10 Months
Sign Up Today!
Full Kit:
324.99
Get Yours HERE!



Done By Me
$24.99/month
10 months
Get Yours HERE!
Full Kit:
$219.99
Get Yours HERE!



Vases of Flowers Round 2
13 Months
$24.99/month
Enroll Today

KITS


Queen of We'en
41.5" x 62.25"
$61.99
Get Yours HERE!




Native Rays Quilt Kit
40" x 40"
$66.49
ONLY THREE LEFT!
Get It NOW




Summer Breeze IV Kit
74" x 94"
$127.99
Get Yours TODAY




Keep on Groovin' Pillow Kit
$29.99
Get Yours Here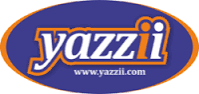 We're an Official Yazzii Bag Distributor!
Come by the shop and see what we have, or you can special order from the catalog!




We proudly carry beautiful sterling silver thimbles and chatelaines designed by
TJ Lane.
Come by Happiness and try on one of these hand crafted thimbles.







On your LIKE button make sure you turn your notifications to "All On" to receive all our Posts!



Get Your First Look at the
PFAFF creative icon
Click On icon for First Look Video!


Come by Happiness Is...Quilting!
Pre-Order Starts TODAY!

Row by Row Experience: On the Go has started!

Come by our shop to get yours.
Only while supplies last!
Kits Available!
Plano Quilt Show Tickets are on sale NOW!
Plano Quilt Show will be
Friday August 11th- Saturday August 12th
From 9 A.M. Until 5 P.M.
Tickets are $9.00 Pre-sale
and $10.00 at the door.
Look HERE for more information.
$150 Rebate on the
Creative 1.5

CLUBS & CLASSES

Quilt Heritage Talks with Carolyn Miller


July's Topic
Christmas Quilts
Join us for a fun and informative session of quilt history from Carolyn Miller. She will share some of the quilts from her vast collection. Discussion and questions are welcomed and attendees are welcomed to bring show and tell.
Saturday, July 15
11:00 a.m. - 1:00 p.m.
$10
Sign-up Here


In The Hoop Club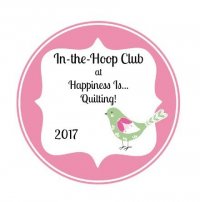 Each month you'll receive-
Demos
Techniques
Free Design
Discounts
Fun time with machine embroidery enthusiast!
All for only
$55/year

Club Meets 2nd Wed. or Thurs. of the Month
Next Meeting-
July 12, 2:00 p.m. -4:00 p.m.
or
July 13, 10:00 a.m. - noon




Join Merri as she teaches you the popular technique of utility hand quilting. This quilting technique has been used in many of the modern quilts of today as well as traditional quilt patterns of days gone by.
Saturday, July 19
10:00 a.m. - noon
$30
Enroll Today


Sew Together Bag


This fun little bag will be a hit will all your friends! Let Jennifer show you how to get them done.
Friday, July 21
10 - 3
$50
Enroll Today
(There is some prep work so make sure you follow Jennifer's instructions)


Merry & Bright
Kimberbell Event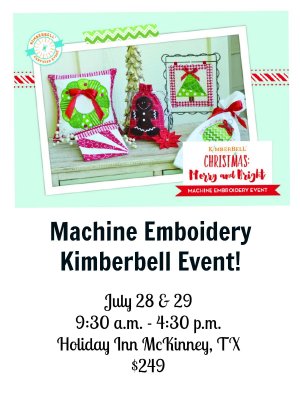 CHECK OUT THE FULL MONTH'S
CALENDAR
HERE