We Are a



Dealer and

Sewing




Machine Service & Repair Center


WE SERVICE ALL
SEWING MACHINE BRANDS




Store Hours




Monday - Saturday


10 - 5


NEW FABRIC

Love Rose Love

Quilt Gate
In the Black, Whisper Whites, and Solitare Whites

Maywood Studio



FEATURED BLOCKS
OF THE MONTH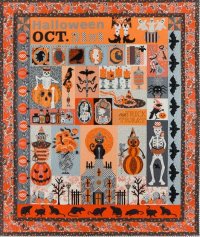 Midnight Potions
11 Months
$24.99/month
Enroll Today
Full Kit Available
$249.99



Blessed Bee
12 Months
$24.99/month
Enroll Today
Full Kit Available
$269.99




Sunflower Gatherings
13 Months
$29.99 for first month
24.99 for every month thereafter
Sign-up Today
Full Kit Available
$324.99




All Over the Octagon
12 Months
$24.99/month
Only 2 LEFT!
Full Kit Available
$274.99
HERE


KITS


Robot Quilt Kit
by Amy Bradley
45" x 54"
$99.99
Get Yours Today



Sweetie Pie Sew Along Quilt Kit
by Lori Holt
76" X 92"
$224.49
Get Yours HERE



NEW!
She Sews Sea Shells Quilt Kit
by Janet Wrecker-Frisch
42" x 59.5"
$39.99
Get Yours HERE!



Ficklestick Starter Kit
20 Flicklesticks
$18.99
Get Your TODAY!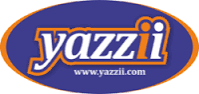 We're an Official Yazzii Bag Distributor!
Come by the shop and see what we have, or you can special order from the catalog!



We proudly carry beautiful sterling silver thimbles and chatelaines designed by
TJ Lane.
Come by Happiness and try on one of these hand crafted thimbles.





On your LIKE button make sure you turn your notifications to "All On" to receive all our Posts!




Becky Goldsmith:
Practical Color
You love color, but you have trouble deciding which colors to use in your quilt. If that sounds familiar, then this is the class for you! You will leave this workshop with practical, easy-to-understand strategies that will allow you to confidently choose colors for your quilts.
This is a fun, no-sew class where you get to try out new color combinations on pieced blocks by gluing fabric to paper.
This class is suitable for all skill levels.
Saturday, April 22
10:00 a.m. - 4:00 p.m.
$75
Enroll NOW!




Downtown McKinney's Arts in Bloom Festival
Friday, April 7 - Sunday, April 9

Find out more information HERE!


Stop by our bi-annual Alley Sale and
get some great discounted items!
Saturday, April 8
10 a.m. - 2 p.m.
Rain or Shine


CF Sharpening Service Is Coming




Jim will be here first thing in the morning and will be sharpening on site. If you have any dull scissors, knives, or shears be sure to bring them, and Jim will sharpen them for you!

Tuesday, April 11

You can find more information HERE
Pricing information HERE
CLUBS & CLASSES
Beginning Machine Piecing
with Penny Treaster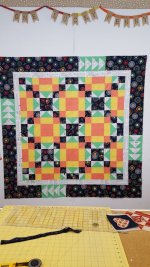 Join Penny for a 3 Week class and learn how to properly rotary cut, measure, press, and machine piece quilt blocks!
The required book for the class is:
Make Your First Quilt with Alex Anderson
Find it HERE!

Sunday Class Dates Are:
April 2
April 9
April 23
1:00 p.m. - 5:00 p.m.
$75
Sign Up Today

Quilt Heritage Talks
with Carolyn Miller


April's Topic-
Star Quilts of the
1830 - 1930
Don't miss this always fun and insightful class lecture will Carolyn. She will bring quilts from her wonderful collection as well as many wonderful stories. Show and tell is encouraged.
Saturday, April 1
10:00 a.m. - Noon
$10
ONLY 4 spots left!
Seating is limited!
Enroll Today

Floral Monogram Class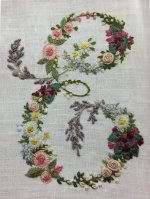 Join Janet as she teaches you the simple embroidery stitches and guides you in the construction of these stitches for an overall embellished look, forming an elegant monogram!
April 11
10 a.m. - 1:30 p.m.
$25
Sign Up Today

Fancy Crochet Edge Class


Join Janet as she teaches you how to use the "Edgit" piercing tool and crochet onto anything with an edge. It will certainly give your items an embellished flare!
This is an INTERMEDIATE crocheting class
Saturday, April 1
1:00 - 4:00 p.m.
$25
Enroll Today

Beginning Punch Needle
with Wendy


Have a blast and learn the art of punch needle at the same time. Wendy will teach you in just a few steps how to properly hoop your project, thread your needle and begin punching.
Bring a design you already have or work on the heart provided.
Wednesday, April 5
11 a.m. - 2 p.m.
$25
Sign-up Today

In the Hoop Club


Each month you'll receive-
Demos
Techniques
Free Design
Discounts
Fun time with machine embroidery enthusiast!
All for only
$55/year

Club Meets 2nd Wed. and the following Thurs. of the Month
Next Meeting-

Wednesday, April 12 2 p.m. - 4 p.m. or
Thursday April 13 10 a.m. - Noon

Join TODAY!
NEW MEMBERS WELCOME TO JOIN ANY TIME!