We Are a



Dealer and

Sewing




Machine Service & Repair Center


WE SERVICE ALL
SEWING MACHINE BRANDS




Store Hours




Monday - Saturday


10 - 5


NEW FABRIC

Kimberbell Basics- Red
Maywood Studio
Wonderland 2
Riley Blake

FEATURED NEW PRODUCT


Miss Rosie's Quilt Company Cake Mix Recipes:
Recipe 1
Recipe 2
Recipe 3
Recipe 4


FEATURED BLOCKS
OF THE MONTH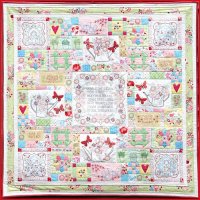 Down in the Garden
10 Months
$29.99/month
Enroll Today
Full Kit Available
$269.99



Pond House
10 Months
$34.99/month
Enroll Today
Full Kit Available
$324.99
HERE



Garden Whimsy
13 Months
$19.99/month
Sign-up Today
Full Kit Available
$239.99




Blessed Bee
12 Months
$24.99/month
Don't Miss IT!
Full Kit Available
$269.99
HERE




Manor House
7 Months
$12.99/month
Enroll Today
Full Kit Available
$84.99
HERE



KITS


Lloyd & Lola Llama Kit
45" x 60"
$62.49
Get Yours Today



Summer Breeze IV Kit
Get Yours HERE!
74" x 94"
$127.99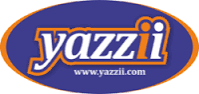 We're an Official Yazzii Bag Distributor!
Come by the shop and see what we have, or you can special order from the catalog!



We proudly carry beautiful sterling silver thimbles and chatelaines designed by
TJ Lane.
Come by Happiness and try on one of these hand crafted thimbles.





On your LIKE button make sure you turn your notifications to "All On" to receive all our Posts!



Only One Week Left Until
BECKY GOLDSMITH CLASS
| | |
| --- | --- |
| | |
You love color, but you have trouble deciding which colors to use in your quilt. If that sounds familiar, then this is the class for you!
You will leave this workshop with practical, easy-to-understand strategies that will allow you to confidently choose colors for your quilts.This is a fun, no-sew class where you get to try out new color combinations on pieced blocks by gluing fabric to paper.
This class is suitable for all skill levels.
Saturday, Feb. 4
10:00 a.m. - 4:00 p.m.
or
Saturday, April 22
10:00 a.m. - 4:00 p.m.
$75
Don't Wait - Enroll TODAY



Kimberbell Machine Embroidery Celebration
Oh, Happy Day!


Turn two ordinary days into a celebration, with us and Kimberbell!
*Complete 6 in the hoop projects from Kimberbell
*All supplies included
*Lunch included for both days
This machine embroidery event is being held at the Holiday Inn McKinney.
So, bring your embroidery machine and come CELEBRATE with US!
Friday and Saturday
March 17 & 18
9:00 - 4:00 p.m.
$249.99
Early Bird Price
$199.99
(ends Feb.1)
If you don't have a machine, come by Happiness and we have special event pricing on new PFAFF Creative Embroidery Machines




Look for our booth at
Kathy Dunigan Applique Academy
TJ Lane Trunk Show
Yazzii Bags
Monday-Saturday
February 6-11
9 a.m. - 5 p.m.
You can come by and shop all week long for FREE Admission to Vendor Hall!
There will also be raffle quilts on display from area Guilds.
We look forward to seeing you!!!
Check it out HERE!


CLUBS & CLASSES
Quilt Heritage Talks


With Carolyn Miller
February's Topic will be Applique Quilts
Join us for an always wonderful trunk and bring your quilts to share for show & tell.
Saturday, Feb. 4
10 - Noon
$10
Sign-up Today


Yazzii Embellishment Bag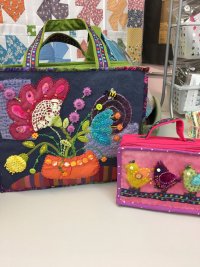 Have fun with Jill as you applique and embellish your own Yazzii Bag. You decide the size of the project and Jill will help you with color selection, embellishment stitches & placement to make your bag one of a kind.
Class meets twice.
Saturday, Feb. 11 &
Saturday, March 11
1:00 p.m. - 4:00 p.m.
$50
Don't miss out - Sign up Today!


Civil War Legacy Club


Timi Ann has won many ribbons in machine piecing and hand quilting. She loves to share her knowledge and love of the art of quilting and the rich history of the United States as told in the fabrics and quilt blocks of the Civil War Era found in the book Civil War Legacies III. This class is a study using miniature quilts of the Civil War era and she will also discuss the construction of the quilts.
Each Session Meets 3 Times
Feb. 11
March 11
April 8
10-Noon
$45
Enroll Today




Come Check Out the Savings!


Buy Sensation Pro II
Get
Passport 2.0 FREE!

REBATES



Did you know that we're an official Yazzii Distributor?

Come into Happiness and check out all the fun possibilities of Yazzii Bags!

Sign up for Jill's Yazzii Bag Embellishment Class HERE!