We Are a



Dealer and

Sewing




Machine Service & Repair Center


WE SERVICE ALL
SEWING MACHINE BRANDS




Store Hours




Monday - Saturday


10 - 5


NEW FABRIC

Compostion
Moda
Papillon
Andover


FEATURED BLOCK
OF THE MONTHS


Back Porch Quilt
10 Months
$29.99/month
Enroll Today
Full Kit Available
$269.99
(Book sold separately)



A Bountiful Life
12 Months
$27.99/month
(includes 2 blocks)
Enroll Today
Full Kit Available
$299.99
HERE



All Over The Octagon
12 Months
$24.99/month
Sign-up Today
Full Kit Available
$274.99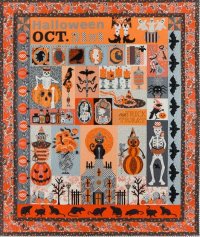 Midnight Potions
11 Months
$24.99/month
Don't Miss IT!
Full Kit Available
$249.99
HERE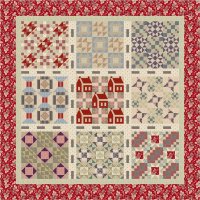 Orphan Train of Memories
12 Months
$24.99/month
Enroll Today
Full Kit Available
$274.99
HERE



KITS


Caravan Roundup
56" x 70"
$74.99
Get Yours Today


Featuring Liberty of London
$12.99/each
Check out these adorable blocks HERE



Meow Or Never
Last Kit!
60" x 72"
$119.99
Get Your Kitty Here!




We proudly carry beautiful sterling silver thimbles and chatelaines designed by
TJ Lane.
Come by Happiness and try on one of these hand crafted thimbles.





On your LIKE button make sure you turn your notifications to "All On" to receive all our Posts!



Kimberbell Machine Embroidery Celebration
Oh, Happy Day!
Turn two ordinary days into a celebration, with us and Kimberbell!
*Complete 6 in the hoop projects from Kimberbell
*All supplies Included
*Lunch included for both days
This machine embroidery event is being held at the Holiday Inn Mckinney.
So, bring your embroidery machine and come CELEBRATE with US!
Friday and Saturday
March 17 & 18
9:00 - 4:00 p.m.
$249.99
Early Bird Price
$199.99
(ends Feb.1)
If you don't have a machine, come by Happiness and we have special event pricing on new PFAFF Creative Embroidery Machines
BECKY GOLDSMITH
| | |
| --- | --- |
| | |
You love color, but you have trouble deciding which colors to use in your quilt. If that sounds familiar, then this is the class for you!
You will leave this workshop with practical, easy-to-understand strategies that will allow you to confidently choose colors for your quilts.This is a fun, no-sew class where you get to try out new color combinations on pieced blocks by gluing fabric to paper.
This class is suitable for all skill levels.
Saturday, Feb. 4
10:00 a.m. - 4:00 p.m.
or
Saturday, April 22
10:00 a.m. - 4:00 p.m.
$75
Don't Wait Enroll TODAY

CLUBS & CLASSES
Kim Diehl's
Simple Whatnots Club
Katie's Cupboard
Join Penny as she guides you through Kim's new Club 6 using her new fabric line Katie's Cupboard and make 8 darling miniature quilts.
Club meets Jan-Mar
Club begins
Saturday, Jan. 21
12:30 pm - 2:00 pm
$45
Don't Wait Enroll Today!
Won't You Be Mine?
Machine Embroidery Project Class
Make this adorable Kimberbell Valentine Table Runner
Thursday, Jan. 25
10-1
$25
Sign-up Today
Discount on Class Kit For
2017 In-the-Hoop Club Members
Sue Spargo Wool Addicts Club
Love wool, thread, & lots of creative stitching
the Sue Spargo way!
Then this is the Club for you!
Join Jill and other wool fanatics stitch and embellish their various projects.
Club begins
Saturday, Jan. 28
2-5
$45.00
ENROLL TODAY
CLASS FULL CALL IN FOR WAIT LIST

Rosette Pillow Class


Join Janet as she takes you step by step on completing this gorgeous Rosette Collage Pillow from designer Laurie Heine.
Saturday, Jan. 26
10-4
$30
Enroll Today


Creative Stitching and Texturing Workshop
with Jill


Get inspired and start stitching with Jill!
In this 4-part workshop you will gain the confidence to embellish your wool projects using creative stitching with many different threads and techniques.
4-Class Meetings
$100
Begins
Saturday, Jan. 28
10-1
GET STITCHING!
ENROLL TODAY!
CLASS FULL CALL IN FOR WAIT LIST


Quilt Heritage Talks


With Carolyn Miller
February's Topic will be Applique Quilts
Join us for an always wonderful trunk and bring your quilts to share for show & tell.
Saturday, Feb. 4
10 - Noon
$10
Sign-up Today


Yazzi Embellishment Bag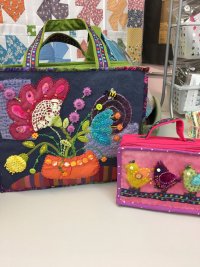 Have fun with Jill as you applique and embellish your own Yazzi Bag. You decide the size of the project and Jill will help you with color selection, embellishment stitches & placement to make your bag one of a kind.
Class meets twice-
Saturday, Feb. 11 &
Saturday, March 11
1:00 p.m. - 4:00 p.m.
$50
Don't miss out Sign-up Today!


Civil War Legacy Club


Timi Ann has won many ribbons in machine piecing and hand quilting. She loves to share her knowledge and love of the art of quilting and the rich history of the United States as told in the fabrics and quilt blocks of the Civil War Era found in the book Civil War Legacies III. This class is a study using miniature quilts of the Civil War era and she will also discuss the construction of the quilts.
Each Session Meets 3 Times
First Session-
Feb. 11
March 11
April 8
10-Noon
$45
Enroll Today




Come Check Out the Savings!


Buy Sensation Pro II
Get
Passport 2.0 FREE!

REBATES