We Are a



Dealer and

Sewing




Machine Service & Repair Center


WE SERVICE ALL
SEWING MACHINE BRANDS


Store Hours



Regular Store Hours



Monday - Saturday




10 - 5
Holiday Hours


Saturday, Dec. 31




10 am - 3 pm


New Year's Day


Closed





FEATURED BLOCK
OF THE MONTHS

All Over the Octagon
12 Months
$24.99/month


Enroll Today


Full Kit Available
$274.99


HERE




Star Spangled Liberty


Pam Buda
74.5" x 78"
9 Months
$27.99/month
Enroll Today



Blessed Bee
48" x 62"
12 Months
$24.99/month
Enroll Today
Full Kit Available
$269.99
HERE



Sunflower Gatherings
68" x 68"
13 Months
$29.99 For First month
and then
$24.99/Month


Sign-up Today


Full Kit Available
$324.99


HERE




KITS



Wildflower Kit


Edyta Sistar


NOW AVAILABLE


55.5" X 71.5"


$99.99




GET YOURS TODAY





Robot Quilt Kit
Amy Bradley

45" x 54"
$99.99

Get Yours Today
Lloyd & Lola Llama Kit
45"x 60"
$62.49
Gets Yours Today
We proudly carry beautiful sterling silver thimbles and chatelaines designed by
TJ Lane.
Come by Happiness and try on one of these hand crafted thimbles.


On your LIKE button make sure you turn your notifications to "All On" to receive all our Posts!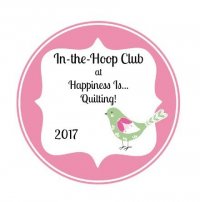 Join our New In-the Hoop Club
Starting January 2017
Only $55 for the year!
There are two sessions to choose from
Wednesday, Jan. 11, 2 - 4 or
Thursday, Jan. 12, 10 - Noon
Sign-up

HERE
*Buy any PFAFF Creative Embroidery Machine
with us &
receive a Complimentary
2017 In-the-Hoop Club Membership!
25% off
Fabric on the bolt
Buy 1 Get 1
50% OFF
(Equal or lesser value)
Kits
Books
Notions
Patterns
Sale Ends Dec. 31

SALE! SALE! SALE!
Smarter by PFAFF Sale on Sale NOW!
Sale ends December 31

Sale Starting January 1 and Ends January 31

Buy One, Gift One
When you buy the Creative Sensation Pro II
you will receive a Passport 2.0 for FREE!

All PFAFF Accessories, Notions,
and Embroidery Software
17% Off

Great Mail-In rebates for the
Performance 5.2,
Expressions 3.5,
and the Quilt Expression 4.2

WE NOW PROUDLY CARRY
NEW JANUARY CLASSES

Machine Maintenance with Leo!


Leo will teach you how to do
basic maintenance on your machine.
Saturday, Jan. 7
10 am - 10:30 am
$10
Sign up Today!

Rosette Pillow Class


Join Janet as she takes you step by step on completing this gorgeous Rosette Collage Pillow from designer Laurie Heine.
Saturday, Jan. 7
11-4
$30
Enroll Today


Beginning Machine Piecing
with Penny


Penny will be using this amazing book from Edyta Sitar as her next beginner's quilt class for 2017. You will make several blocks that can be made into a table runner or wall hanging.
5 Sessions
Begins
Sunday, January 8
1-5
$75
Sign-up Today!


Floral Monogram


Janet will teach you embroidery stitches, then guide you in the building of these beautiful Monogram Letters.
Saturday, Jan. 14
10-4
$25
Enroll Now


Slow Stitching with
Jill


In this 3-part class learn hand piecing, hand applique & utility/big stitch quilting.
Begins
Friday, Jan. 20
10-12:30
$75
Sign-up Today


Kim Diehl's
Simple Whatnots Club
Katie's Cupboard


Join Penny as she guides you through Kim's new Club 6 using her new fabric line Katie's Cupboard and make 8 darling miniature quilts.
Club meets Jan-Mar
Club begins
Saturday, Jan. 21
12:30 pm - 2:00 pm
$45
Don't Wait Enroll Today!


Won't You Be Mine?
Machine Embroidery Project Class


Make this adorable Kimberbell Valentine Table Runner
Thursday, Jan. 25
10-1
$25
Sign-up Today
Discount on Class Kit For
2017 In-the-Hoop Club Members


Creative Stitching and Texturing Workshop
with Jill


Get inspired and start stitching with Jill!
In this 4-part workshop you will gain the confidence to embellish your wool projects using creative stitching with many different threads and techniques.
4-Class Meetings
$100
Begins
Saturday, Jan. 28
10-1
GET STITCHING!
ENROLL TODAY!

Sue Spargo Wool Addicts Club


Love wool, thread, & lots of creative stitching
the Sue Spargo way!
Then this is the Club for you!
Join Jill and other wool fanatics stitch and embellish their various projects.
Club begins
Saturday, Jan. 28
2-5
$45.00
ENROLL TODAY