We Are a

Dealer and Sewing
Machine Service & Repair Center
WE SERVICE ALL
SEWING MACHINE BRANDS


Store Hours




Monday - Saturday




10 - 5






Get Block 15

HERE!


Be sure to share your blocks with us and Moda @


#happytoquilt


#ModaBeMyNeighbor



Be My Neighbor Kit Block


(blocks feature Liberty of London Fabric)


$12.99




Order Yours Here




Quiltapalooza
Products

Check out some of the fabulous items featured at
Quiltapalooza!



FEATURED BLOCK
OF THE MONTHS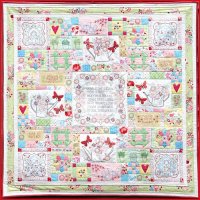 Down In The Garden
Leanne Beasley
53" x 53"
10 Months
$29.99/month
Enroll Today



Back Porch Quilts
75" x 75"
10 month
$29.99
Enroll Today


NEW KITS
Lloyd & Lola Llama Kit
45" x 60"
$62.99
Get Yours Today
Sleepy Sloth Kit
58" x 58"
$72.99
Get Yours Today


Star Storm Quilt Kit
80"x 80"
$166.99
Gets Yours Today
We proudly carry beautiful sterling silver thimbles and chatelaines designed by
TJ Lane.
Come by Happiness and try on one of these hand crafted thimbles.


On your LIKE button make sure you turn your notifications to "All On" to receive all our Posts!
Wrapped & Ready
Gifts
Great Gifts at Great Prices!
Does Santa need a little help? Send him in & we'll
make sure he gets you the perfect gift. We'll even get our elves to wrap it for him!

There is a wide selection of gifts to choose from.
CHECK THEM OUT HERE!
McKinney 2016
Reader's Choice Shopping Candidate
Happiness Is...Quilting!
VOTE FOR US
HERE
Under Shopping Category
Thanks!

SPECIAL DECEMBER PROMOTIONS
December Demo Mondays
Cookies, Cocoa, & Free Kit
Don't miss our last Monday Demo
Monday, Dec. 19th or Saturday Dec. 17th
11-11:30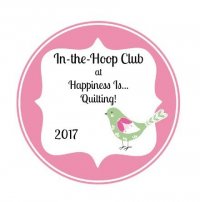 In-the-Hoop Club
2017
In this Club you will receive each month:
Demonstration of an embroidery technique

Preview and demonstration of Project Class for the Month

Discount on Project Kit for the month

Free Design each month

Social and discussion time with other machine embroidery enthusiasts

Discount on a select machine embroidery merchandise on day of Club meeting
Two Sessions to Choose From:
Wednesday, Jan 11
2-4
Thursday, Jan 12
10-12
ONLY
$55
For the YEAR!
ENROLL TODAY
ELLANA WOOL THREAD
NOW AVAILABLE
From Sue Spargo for your wool applique and embellishment
$3.99/spool
NEW FABRIC




Summer Breeze




Moda




Caravan Round-up




Moda




Modern Scouting


Riley Blake




Peppered Cottons




E.E. Schenck





NEW JANUARY CLASSES

Rosette Pillow Class


Join Janet as she takes you step by step on completing this gorgeous Rosette Collage Cushion from the wonderful designer Laurie Heine.
Saturday, Jan. 7
10-4
$30
Enroll Today

Beginning Machine Piecing
with Penny


Penny will be using this amazing book from Edyta Sitar
as her next beginner's quilt book for 2017. It has so many wonderful blocks and skills that will give you a wonderful foundation to piecing.
5 Meeting Class
Begins
Sunday, January 8
1-5
$75
Sign-up Today!

Floral Monogram


Janet will teach you embroidery stitches, then guide you in the building of these beautiful Monogram Letters.
Saturday, Jan. 14
10-4
$25
Enroll Now

Slow Stitching with
Jill


In this 3 part class learn all things learn
hand piecing, hand applique & big/utility quilting.
Begins-
Friday, Jan. 20
10-12:30
$75
Sign-up Today

Won't You Be Mine?
Machine Embroidery Project Class


Make this adorable Kimberbell Valentine Table Runner
Thursday, Jan. 25
10-1
$25
Sign-up Today
Discount on Class Kit For
2017 In-the-Hoop Club Members