Shop

Monthly Calendar
Store Hours
Monday - Saturday
10 - 5

On your LIKE button make sure you turn your notifications to "All On" to receive all our Posts!


Get Block 2 HERE!
Be sure to share your blocks with us and Moda @


#happytoquilt




#ModaBeMyNeighbor






Be My Neighbor Kit Block 2


(blocks feature Liberty of London Fabric)


$12.99




Order Yours Here





FEATURED



BLOCKS OF THE
MONTH
Blessed Bee
Block of the Month
12 Months
$24.99
Enroll Today
Full Kit
$269.99
Tuxedo Tales

12 Months
$19.99/mo.
Enroll Today
Full Kit
$174.99
KITS

At The Bazaar
42"x54"
$69.99
Get Yours Today


Changing Gears
46"x35"
$51.99
Gets yours TODAY
Happy Hour Wine Tote
Great Gift!

$22.49
Get Yours Today
We proudly carry beautiful sterling silver thimbles and chatelaines designed by
TJ Lane.
Come by Happiness and try on one of these hand crafted thimbles.
Come Celebrate Oktoberfest McKinney Style!
Sept. 23-25
Official McKinney Oktoberfest Website
Shop Access
You can still access HIQ next to the stage in front of the shop. Just let the guard know you are going into
Happiness Is... Quilting!, & he will let you through!


Local Area Quilt Guild
Mini Quilt Show
During Oktoberfest some of our area Quilt Quilds will be displaying their donation quilts and selling raffle tickets.
Guilds Participating:
McKinney
Allen
Land O'Lakes
Kaufman
Frisco
Garland

They will be located at the corner of Kentucky and Virginia.


Please come by and support these great Guilds and all their hard work by buying raffle tickets.




Leo Is Serving Machines on
Tuesday, Septe
mber 20th
Ne
xt Week
due to Oktoberfest
New Fabrics



Playground




Lecien




Something Blue




Riley Blake




Flowersugar Canvas




Lecien
Upcoming Classes
Orphan Train BOM Class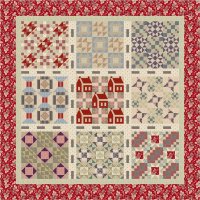 Join Penny as she guides you through the experiences of some of the over 200,000 children who traveled across the country to find new homes and families.
Class will be comprised of lecture and tips to complete your quilt.


Orphan Train of Memories BOM




12 Month




$24.99




Sign-up Here For BOM


Orphan Train of Memories Kit
$274.99
Order Yours HERE
Class is FREE to all who enroll in the Block of the month or purchase Kit.
First Class meeting is-
Sat., Sept. 17 at 10 a.m.-1 p.m.
Once you have purchased the KIT or Signed-up for BOM
ENROLL IN CLASS HERE
All Over The Octagon Class
This fun new block of the month is a fun fresh modern English paper piecing project. In this class you will learn how to English Paper piece using the
All Over The Octagon BOM
$20
Tuesday, Sept 13
10:00 a.m. - Noon
Enroll Now
Beginning Punch Needle
with Wendy
Join Wendy as she shows you how to Punch Needle.
This class is sure to make you a lover of this fun hand work tool!
Friday, Sept. 23
10:30 a.m. - 1:00 p.m.
$25
Sign-up Today
Creative Stitching with
Jill
Have you always wanted to get started on Wool Applique and Creative Stitching but weren't sure where to start?
Well, this is the class to get you started!
This class meets 4 times and in each class you will get to work on the project YOU want to work on and Jill will help you to make it your own.
First Meeting is on:
Saturday, Sept. 24
10:00 a.m.- 1:00 p.m.
$100
Enroll Today
All By Hand

This 3 part class will cover all aspects of hand quilting including, hand piecing, hand applique and utility big stitch quilting.
First Meeting
Saturday, Sept. 24
2:00 p.m. - 4:00 p.m.
$75


Enroll Today