Embellished Bag Cover
Choose the bag and the design that fits your style and Jill will help you make it!
2 Meeting Class
Sat, Sept 10 1:00 p.m. - 4:00 p.m. &
Sat, Sept 17 1:00 p.m. - 4:00 p.m.
$50
Enroll NOW
Orphan Train BOM Class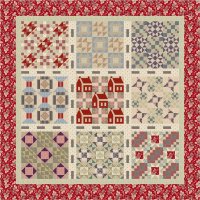 Join Penny as she guides you through the experiences of some of the over 200,000 children who traveled across the country to find new homes and families.
Class will be comprised of lecture and tips to complete your quilt.


Orphan Train of Memories BOM




12 Month




$24.99




Sign-up Here For BOM


Orphan Train of Memories Kit
$274.99
Order Yours HERE
Class is FREE to all who enroll in the Block of the month or purchase Kit.
First Class meeting is-
Sat., Sept. 17 at 10 a.m.-1 p.m.
Once you have purchased the KIT or Signed-up for BOM
ENROLL IN CLASS HERE
Beginning Machine Piecing
You will love and learn so much with Penny in her beginning machine piecing class.
5 Meetings
First Meeting:
Sunday, Sept 11 Noon - 4:00
$75
Enroll Today
All Over The Octagon Class
This fun new block of the month is a fun fresh modern English paper piecing project. In this class you will learn how to English Paper piece using the
All Over The Octagon BOM
$20
Tuesday, Sept 13
10:00 a.m. - Noon
Enroll Now
Creative Stitching with
Jill