Shop

Monthly Calendar
Store Hours
Monday - Saturday
10 - 5
CLUBS
Simple Whatnots Club
Celebrate the wonderful world of Kim Diehl with Penny
$45
(fee is for 3 sessions
Feb, March & April)
Enroll Now
Let's Get Organized Demo
March Demo

The Ditty Bag
Friday, March 18 11 a.m.

or
Saturday, Mach 19 11 a.m.
Free Sign-up Today
We proudly carry beautiful sterling silver thimbles and chatelaines designed by
TJ Lane.
Come by Happiness and try on one of these hand crafted thimbles.
Patience Griffin
Author & Quilter Book Signing
Come by and get the newest book in the Kilts & Quilts Series signed at the


Dallas Quilt Show
In the Happiness Is...Quilting! Booth
March 11 &
12

10 a.m.- 3 p.m.
Dallas Quilt Show
March 11-13, 2016
Friday & Saturday, 10 a.m. - 5 p.m.
Sunday, 12 p.m. - 5 p.m.

Advance Tickets Still Available at Happiness
$8


The Gardens Of A King
Class with Missy Carpenter
This beautiful quilt is an interpretation of a King George III Coverlet from 1803

In this 2-Day Workshop Missy will cover many tips and tricks to sew and baste your English Paper Piecing using traditional and her own English Paper Piecing method. Wool and needleturn applique techniques will also be covered.


Monday and Tuesday




March 14-15




10:00 a.m. - 4:00 p.m.



$99
Sign-up Today!

Classes
Beginning Machine Quilting
with Penny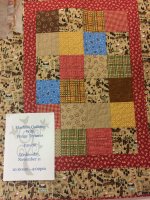 In this class you will learn to machine quilt using both walking foot and darning foot. Penny will share many of her tips and tricks to make you a machine quilter by the end of the day.
Friday, March 11

10:00 a.m. - 3:00 pm.
$30.00

Enroll Today
Machine Applique
w
ith Penny
Learn machine applique in this fun and informative class with Penny. You will will also learn how to appli-quilt as a bonus lesson!
Monday, March 28
10:00 a.m. - 3:00 p.m.
$30
Sign-up Today
(as this class fills up quickly!)