Shop

Monthly Calendar
New Store Fall Hours
Monday - Saturday
10 - 5
CLUBS
Simple Whatnots Club
Celebrate the wonderful world of Kim Diehl with Penny
$45
(fee is for 3 sessions
Feb, March & April)
Enroll Now
Civil War Legacies
If you have a love for reproductions and the rich history of our country, this is the class for you. Join with Timi Ann and sew beautiful miniature quilts.
$45
(fee is for 3 sessions
Feb, March & April)
Enroll Today
Let's Get Organized Demo
March Demo

The Ditty Bag
Friday, March 18 11 a.m.

or
Saturday, Mach 19 11 a.m.
Free Sign-up Today
We proudly carry beautiful sterling silver thimbles and chatelaines designed by
TJ Lane.
Come by Happiness and try on one of these hand crafted thimbles.



The Gardens Of A King




Class with Missy Carpenter


This beautiful quilt is an interpretation of a King George III Coverlet from 1803
In this 2-Day Workshop Missy will cover many tips and tricks to sew and baste your English Paper Piecing using traditional and her own English Paper Piecing method. Wool and needleturn applique techniques will also be covered.


Monday and Tuesday




March 14-15




10:00 a.m. - 4:00 p.m.




$99


Sign-up Today!



Dallas Quilt Show




Advanced Tickets $8
Get yours at Happiness
Cash or Check


FEATURED
BLOCKS OF THE MONTH




Hope Blooms




Soft floral applique block of the month from MODA featuring the fabric Windermere. Designed by Brenda Riddle of Acorn Quilt Company.




$19.99/10 mo.




Full Kit $159.99




Finished Quilt Size




56" Square



Enroll Today



Done By Me




Wool Applique block of the month with a touch of velvet. Each block is reminiscent of an antique cross stitch sampler right down to the alphabet!




$24.99/10 mo.




Full Kit $219.99




Finished Quilt Size




62" x 62"



Enroll Today
Vases of Flowers
This beautiful applique block of the month is from the book Floral Bouquet by Yoko Saito. The project includes background and applique fabrics only. This quilt lends itself to be embellished with silk ribbon and other embellishment threads. You must come by and see the sample to see how embellishing it add a new dimension to the flowers, leaves and birds.
$1
9.99 for 12 months
(Book sold separately)
Floral Bouquet by Yoko Saito
Full Kit $219.99
Finished Quilt Size
55" x 61"
Enroll Today
New Fabrics
CLASSES
All By Hand
with Jill
This 3 part class will cover hand piecing, hand applique and
big stitch utility quilting.
First class will meet Sat., Feb. 27
2:00p.m. - 4:30 p.m.
Enroll Today!
Beginning Machine Quilting
with Penny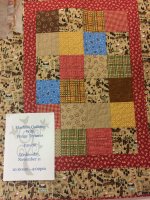 In this class you will learn to machine quilt using both walking foot and darning foot. Penny will share many of her tips and tricks to make you a machine quilter by the end of the day.
Friday, March 11

10:00 a.m. - 3:00 pm.
$30.00

Enroll Today
Introduction To Silk Ribbon
with
Janet
In this fun and creative class Janet will show you the beautiful art of silk ribbon embroidery
.

You will learn basic silk ribbon stitches that combined will make beautiful flowers and floral bouquets.


Class is Tuesday, March 8
10:00 a.m. - 1:00 p.m.


$30



(There is a $5 class supply fee payable to Janet at class time for ribbon used in class)
Enroll TODAY!