Shop

Monthly Calendar
New Store Fall Hours
Monday - Saturday
10 - 5
CLUBS
Creative Stitching & Texturing
with Jill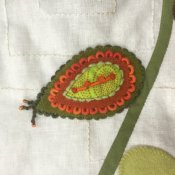 Let your creative start flowing with this fun and informative class. Jill will take you through all the ins and outs of wool applique and embellishing.
$100
(fee includes 4 sessions Jan-April)
First meeting
This Saturday
Jan. 30
Sign-up NOW!
Simple Whatnots
Club 4
Celebrate the wonderful world of Kim Diehl with Penny
Club starts Feb 6
$45
(fee is for 3 sessions
Feb, March & April)
Enroll Now
Civil War Legacy Club
with Timi Ann
If you have a love for reproductions and the rich history of our country, this is the class for you. Join with Timi Ann and sew beautiful miniature quilts.
$45
(fee is for 3 sessions
Feb, March & April)
Enroll Today
Let's Get Organized
Demo
Friday & Saturday
Feb. 12 & 13
Check website for times
Kathy Dunigan Academy of Applique

Kathy Dunigan Academy of Applique will be held at the Rockwall Hilton Feb. 1-6
Come by to shop and view some of the quilt exhibits that will be on display.

For more details
Feb. 9th
Fat Quarter Sale


$1.99


(excludes Dutch Chintz & Liberty of London)

New Fabrics
Trey's Tips
We here at Happiness have learned SO much since Trey has come on board and

we

want to share some of his "Tips" with you!



Did you know that using the silica pack you get in some medication bottles prevent rust on pins and needles? Just save the pins and needles in a closed container with the silica pack, no more rust.

CLASSES



Beginning Machine Piecing




with Penny



This fun & informative class will give you the foundation to successfully complete a quilt on your own.
$75
(5 Sessions)
Sign-up Today!
Tuffet Class
Join Laura Kay as she takes you through the steps to create your very own tuffet.

Wednesday, Feb. 10 10-1 and
Wednesday, Feb. 24 10-1
This is a 2-part class
$40.00

Enroll Today