Happenings At HIQ!
Post Card Party
Patience Griffin Book Review

Post Card Party
Quilt Heritage Talks
Creative Stitching and
Texturing Workshop
Stitch This
Emily Munroe Quilt Workshop
Stitch This
Intro To Utility Quilting
ConKerr Cancer Pillowcase Work Session
Beginning Punch Needle
Monthly Class Calendar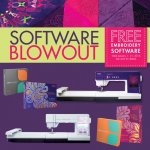 What's New at HIQ!

Fiesta
by Michael Miller



Blast Off
by Amy Shaw



Petite Prints
by French General



Vintage
by Makower UK



Opposites Attract
by Jakie McFee



HIQ Partners



Are you looking for a quilter? Are you a quilter looking for customers? Check out our HIQ Partners page. We direct all our customers who come into the shop or call us looking for a quilter to this page. You can find the HIQ Partners page under the Contacts menu or by clicking the above icon on any page or email. If you want to add your quilting business to our HIQ Partner's page, send us an

email

or stop by the shop.
Featured
Block of the Month
The Emily Munroe Quilt
This 1865 reproduction quilt is stunning and finishes 59''x68.'' It is an 18-month Block of the Month program where you will receive three blocks per month. Included in the block of the month is all the fabric and wool to complete the quilt top and binding.
Get yours today!
Patience Griffin New Book Review & Signing
G
riffin's Scottish journey continues with her newest book

Meet Me In Scotland

. And to celebrate, Patience is having a release party here at Happiness Is ... Quilting! this Saturday, Jan. 17, at 10:30 a.m. Come and here her talk about the new book and get a signed copy for yourself. You loved her first book,

To Scotland, With Love

. Patience is going to giveaway this fun gift basket to one lucky attendee.



Post Card Party Time



From the people who brought you the Row By Row Experience this past summer comes the Post Card Party. But this time, it's NOT a shop hop. Post Card Parties are fun, mini workshops, you can participate in by creating a post card from fabric. We'll send your post card off to have it swapped with other cards from all over the USA and return to you a post card from another quilter in another state! Happiness Is ... Quilting! is hosting two parties in January. Join us on Saturday, Jan. 17, from 2-4 p.m. or Thursday, Jan. 22, from 10 a.m. - 12 p.m. to create a post card. It's going to be a fun time, so don't miss out!

Register today.





Quilt Heritage Talks with Carolyn Miller




Carolyn will be meeting on the

third Friday of the month from 10 a.m. - 12 p.m. to discuss and share history of quilting and her beautiful collection of quilts. However, join her on the fourth Friday in January (Jan. 23) to hear about Pennsylvania Dutch quilts. We loved her Amish and Mennonite quilts last month, we can't hardly wait for her Pennsylvania Dutch quilts.

Save your seat now.
Additional Creative Stitching and Texturing Workshop Session Opened!
Jill has opened another session for her Creative Stitching and Texturing Workshop after the high demand for the first session. The new session will follow after the first, meeting from 2-5 p.m. beginning Saturday, Jan. 24. This four part class meets once a month and will get your creative juices flowing! Jill has designed a beautiful table runner as a class project or you can bring one of your own. She'll share embroidery stitches as well as techniques for texturing.
Register today.
New HIQ Clubs Meeting Soon
The amazing staff teachers at HIQ! have developed new classes, workshops and clubs that will begin in January and February. Here is a quick overview of some of the new clubs that are starting up soon.
Missie Carpenter Workshops At HIQ!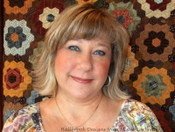 We are pleased to introduce Missie Carpenter to the North Texas area. She has been featured in Primitive Quilts and Projects and interviewed by Pat Sloan on Quilt Radio. She loves handwork and is coming to Happiness Is. . . Quilting! to teach three different workshops.

Primitive Pineapple Welcome Punch Needle - Thursday, Feb. 5, from 10 a.m. - 4 p.m.
Missie will teach us to punch in the morning and then show us how to finish the project by adding borders and applique in the afternoon.

Pennies In My Garden Wool Applique

- Friday, Feb. 6, from 10 a.m. - 1 p.m.
In this morning workshop, Missie will teach us her technique for making wool pennies and her multi-layered applique border in a table runner project finishing 44''x18.''

If you sign up for two of Missie Carpenter's workshops at HIQ!, you can receive a $10 discount on the class cost. Enter this code "MISSIE2" at check out when registering for both classes.