Happenings At HIQ!
Sunday Stitching Society
Intro To Utility Quilting Class
Mini Retreat
HIQ's Greenbriar Retreat
Stitching Society
Quilt Heritage Talks
Sunday Stitching Society
Monthly Class Calendar
What's New at HIQ!
Landon Creek
by Paula Barnes
Babes In Farmland
Because Of The Brave
Just A Few Favorites
From Quiltapalooza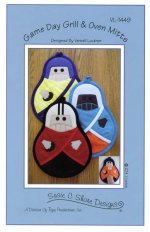 Game Day Oven Mits
Grab Some Grub Lunch Box
A Kimberbell Christmas Vol. 1 Embroidery CD



Sew Cute Pattern Book by Taylor Made Designs



Jessica Jones Scissors 7/8'' Multi Ribbon



Country Elegance by The Quilted Crow Girls

Happy Thanksgiving To Our Wonderful Customers!

We are thankful for our creative customers. It's always fun to see the projects you are working on and helping you find that perfect fabric for your block or borders. We will be closing early on Wednesday at 2 p.m. to allow our employees time with their
families and preparations for their Thanksgiving celebrations before returning Friday for Black Friday Sales and Specials. Remember to stop in on Friday and Saturday to partake in the PFAFF

®

Black Friday specials. Now is the time to buy PFAFF and take advantage of their specials - purchase a

PFAFF®

Creative Sensation Pro

™

and get a

PFAFF® Passport™ 2.0

free, stabilizer 3-pack only 19.99, or 24 spool Robinon-Anton Thread Pack for $99.95! Make sure Santa gets a good price on your new machine.
Eight Years Of Happiness!
Happiness Is ... Quilting! is turning 8 this weekend! It has been a lot of fun packed, stitched filled years of quilting. We want you to celebrate in our happiness and since it's our party, we can have a Fat Quarter Party if we want too. This Friday and Saturday, Nov. 21-22, buy 8 fat quarters and get 8 fat quarters of the same value free! Buy 8 full price fat quarters, get 8 full price fat quarters free, buy 8 orphan fat quarters, get 8 orphan fat quarters free.
Patience Griffin Is Celebrating With Us!
Patience Griffin, author of To Scotland, With Love, is joining in our birthday celebration on Friday and Saturday. She'll be signing her book, To Scotland, With Love, from 11 a.m. to 1 p.m. on Friday and Saturday. Maybe she'll give us a hint about what we should look forward to in the next installment. We can't wait!
PFree PFAFF!
Our month of "PFun" is underway! Make sure you enter in our drawing for a new

PFAFF® Passport™ 2.0 sewing machine

- a $699 value! So many of you have come by to see our new PFAFF® machines. Don't be left out. Stop in and see why we love our new

PFAFF® machines. Winner of this great machine will be drawn on Satur

day, Nov. 29. It could be you!


Mini Retreat With Wendy And Andree
Get those last minute Christmas gifts or holiday party favors completed. Join Wendy and Andree on Saturday, Dec. 6, from 10 a.m. - 9 p.m. for Mini Retreat. Due to the busy time of year, please sign up by Wednesday, Nov. 26. If class has not made by then, it will be cancelled.

Register today.
Piece and Comfort Challenge By Moda