Happenings At HIQ!
Tips & Techniques
Crabapple Hill Coloring Technique Class
Pumpkin Party - Let's Hand Applique Class
Square Dance The Sue Daley Way Class
Quilt Heritage Talks
Let's Make A Diehl and Simple What Knots Club
Alley Sale
Building Blocks One
Building Blocks Two
Intro to Silk Ribbon Class

Monthly Class Calendar


What's New at HIQ!



Caswell County
by Jo Morton



Primrose Garden
by Riley Blake Designs



Ruru Bouquet
by Quilt Gate USA



American Made Brand Solids

Featured
Block of the Month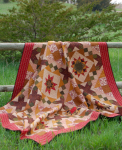 This stunning quilt using exclusive Jo Morton fabrics makes a statement. Finishing 100'' square, Prairie Rose features traditional scrappy sampler blocks. You can have this grand quilt completed in just nine months at $24.99 a month. Laura Kay's new daughter-in-law and beginning quilter just made this quilt as a wedding present for her parents.
Get yours today!



Alley Sale Rescheduled
Due to the high possibility of rain on Saturday, we have rescheduled the Alley Sale to next Saturday, Oct. 18. The Quilter's Ultimate Garage Sale will take place from 10 a.m. - 4 p.m. Shoppers mark your calendars to not miss out on these great deals. The Alley Sale is full so, there will be some great treasures to find. Looking for a great deal on fabric, kits, tools, etc., come and shop from your fellow quilters.
Mark Downs Throughout The Shop on Saturday!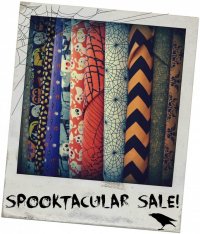 Don't miss all the major markdowns this Saturday, Oct. 11, at the shop. We've been busy marking down items throughout the entire shop so, there is bound to be something just for you. All Halloween fabric and Christmas fabric including kits will be 35% off. Let's get those holiday project completed or get you started on a new one just in time for the season. We are needing to make a little bit of room for some new additions to the shop that will continue to provide our customers the ability to advance their quilting skills. But, more on that later ...



Pumpkin Party - Let's Hand Applique Class



Learn the basics of needle turn applique while stitching on this fun pumpkin wallhanging finishing 12''x17'' on Wednesday, Oct. 15, from 10 a.m. - 3 p.m. Timi Ann will teach you how to stitch inner points, outer points and gentle curves using freezer paper templates and an invisible applique stitch.
Enroll today.
Square Dance The Sue Daley Way Class
Rose Davis will breakdown the in's and out's of English Paper Piecing the Sue Daley way offering tips. Let Rose guide you and get you started piecing the fun Square Dance quilt on Thursday, Oct. 16, from 10:30 a.m. - 3 p.m. Whether you are new to English Paper Piecing or want to polish your skills, this is the class for you.

Register today.

Kits available.
Quilt Heritage Talks
You are not going to want to miss this month's meeting of Carolyn Miller's Quilt Heritage Talks. On Friday, Oct. 17, at 10 a.m., Carolyn will discuss and share her Depression Era (1930) quilts. Oh my Quilt! Who am I kidding? You don't want to miss any of the Quilt Heritage Talks!
Save Your Seat Today