Happenings At HIQ!
Intro To Foundation Paper Piecing Class
Jo's Club
Think Of Me Dear One
Stitching Society
Melted Crayon Applique Class
"Whoo" Goes There? Class
Tips & Techniques
Chirp - Applique With Attitude Class
Blowin' In The Wind Class
Jo's Club
Machine Applique Club
Granddaddy's Neckties Class
Monthly Class Calendar
What's New at HIQ!

Let's Pretend



Fall Harvest



LB Basic Confetti



Paint



Boys In Blue



Firefighters Rock




Featured


Block of the Month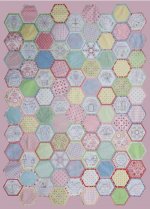 Everybody loves a quick hexagon quilt! Best Friends Forever Block of the Month combines quilt-as-you-go hexagons and embroidery. It is too cute! This 12 month Block of the Month fiinishes 52''x72.'' You will receive the pattern, floss, stitchery and fabric to complete this quilt. The best part is the stitchery is already transferred onto the linen!
Only $24.99 a month!

Get yours today!

We're No. 1 and Oktoberfest Is This Weekend

In case you haven't heard, McKinney is the best place to live in the country according to Money Magazine's "Best Places To Live in America" list. Money Magazine looks at a variety of data to rank it's "best places," but of course we think our awesome Historic Downtown is an important factor in this recognition.


Oktoberfest will be in full swing starting this Friday, Sept. 26, and winding down Sunday, Sept. 28. It officially begins at 4 p.m. but vendors for the event will be setting up all day.The parking lot next to the shop will be open, but be prepared for parking congestion with this fun festival taking place. Event hours are 4-11 p.m. on Friday, 10 a.m. - 11 p.m. on Saturday, and 12-5 p.m. on Sunday. We'll be open all three days! So, come on down and grab a bratwurst and have a beer!
Melted Crayon Applique
Grab your Crayola crayons, and quilting supplies for some colorful and creative options to add to your quilting skills. Using the new Melt-n-Blend technique, learn how to create beautiful applique designs with a dimensional, hand-painted look from Pam Wingate on Tuesday, Sept. 30, from 10 a.m. - 2 p.m.

Register today.
Introduction To Foundation Paper Piecing
This basic foundation paper piecing class will finally crack the mystery for you on how to successfully complete quilt blocks using this technique. Liz Bushong will take you step-by-step through this process. Join her Thursday, Sept. 25, from 10 a.m. - 2 p.m. to get started.

Enroll today.
Becky Goldsmith Classes Filling Quickly
Learn from one of the industry's foremost applique experts and designers (and North Texas local) Becky Goldsmith on October 3 and 4. She will be teaching two applique workshops and space is limited.
On Friday, Oct. 3, she will teach you how to applique with attitude the Piece O'Cake way in

Chirp - Applique With Attitude

. Your stitches not only hold the applique in place, but also embellish.




Blowin' In The Wind

on Saturday, Oct. 4, will focus on hand applique techniques that will help you sew better and happier. In addition to learning easy template making, making and using placement guides, and perfecting your invisible applique stitch, you will learn a variety of applique techniques including 2-point leaves and cutaway applique.

New Classes By Pam Weege
Pam Wegee is kicking off the month of October with a couple of new classes to HIQ!

"Whoo" Goes There?

on Wednesday, Oct. 1, from 10 a.m. - 4 p.m. is a cute, machine appliqued owl quilt. It is a great way to work on your machine applique technique while making a perfect cuddly quilt or play mat for that special little one.
The following Wednesday, Pam is offering a class on how to turn that-special-man-in-your-life's ties into a keepsake.

Granddaddy's Neckties

on Wednesday, Oct. 8, from 10 a.m. - 2:30 p.m. uses neckties and easy paper piecing techniques so you can make a small quilt suitable for framing. Sign up for either of these classes by clicking on the class name.



Square Dance The Sue Daley Way Class


Rose Davis will breakdown the in's and out's of English Paper Piecing the Sue Daley way offering tips. Let Rose guide you and get you started piecing the fun Square Dance quilt on Thursday, Oct. 16, from 10:30 a.m. - 3 p.m. Whether you are new to English Paper Piecing or want to polish you skills, this is the class for you.

Register today.

Kits available.





ConKerr Cancer Pillowcase Sew-A-Thon



Thank you to everyone who joined us or donated materials
for the Sew-A-Thon

. It was a huge success. We were able to create 150 pillowcase kits for people to come and pick up to sew as well as sew some pillowcases. Thank you! We had so much fun!